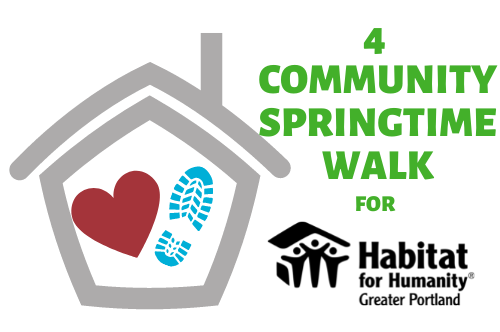 What: Complete a 1, 2, 5, or 10 mile walk while fundraising for affordable housing in our community
When: Saturday, April 30
Start your walk as early as 7 AM and wrap up by 3 PM
Where: starting at Cumberland Town Hall
Join us on April 30 as we rally the Cumberland, Falmouth, Yarmouth, and North Yarmouth communities in support of affordable housing! Choose your walk length and raise much needed funds to help Habitat for Humanity build and repair more homes in Cumberland County.
Start your walk at Cumberland's Town Hall for a lively atmosphere featuring fun family activities!
Click here to sign up! You can create a team, join an existing team, or walk as an individual! Registration is free, but fundraising for Habitat is encouraged.
Can't join us on April 30? Take a walk on your own time during the month of May. You can sign up for this virtual option by clicking here.
Choose your own walk route, but if you're in the area, check out this list of great walks nearby!
Maps courtesy of Spatial Alternatives of Yarmouth
Do I have to join a team?
No, you can register to walk as an individual, or as a member of a team.
Do I need to fundraise to participate?
Fundraising is not required, but greatly encouraged. It costs Habitat over $250,000 to build an affordable home for a family in our community, so every dollar raised from this walk helps them reach this fundraising goal!
What time does it start?
Though there is not one specific start time when everyone must begin their walk, you may arrive at Cumberland Town Hall as early as 7AM. We ask that you plan to have your walk completed by 3PM.
Is the route pre-planned and marked?
There is a pre-planned and marked route for a 1, 2, 5, and 10 mile loop. These loops will only be marked on April 30, the day of the in-person walk.
If you are a virtual walker, you do not need to walk there particular routes.
Is there anywhere to stop and rest during the walk?
Every two and a half miles there are conveniently located Way Stations where you can take a break, grab a snack, and use the restroom.
Can I run or do I have to walk?
You're welcome to run or walk, but there will not be any official timing.
Is this a rain or shine event?
Yes, this event will be held rain or shine. You can always participate virtually during the month of May if the weather on April 30 is a deal breaker.
Do I need to live in Cumberland, Falmouth, Yarmouth, or North Yarmouth to participate in this event?
No! Members of all communities are welcome to join this walk!